Tattoos have been with us for thousands of years and until recently the way they were designed and tattooed had not changed much. Since tattoos entered the mainstream tattoo technology has evolved. Ink, machines and even healing methods have advanced greatly in recent years (in www.clavetattoo.com have the best products for the care of your tattoo). This evolution has resulted in cleaner, fresh tattoos, which last longer and age better. As in any industry, there are people who go a step further, avant-garde artists dissatisfied with current styles.
Now that tattoos ceased to be something more and more radical tattooed people how highlight then? We teach four styles of tattoo they'll leave alucinad @!
WATERCOLOR
The tattoos that mimic stroke lead watercolor seeing some time, but now more and more talented artists are exploring this style
RED TATTOO
Incredibly bright for leaving the tone of black. Also the most difficult to erase laser … and what if you burn sunbathing …
PHOTOSHOP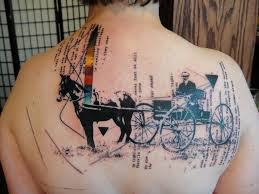 This style blends a variety of elements, especially mixing noir style and photograph.
REALISTIC TRASH POLKA
It was created by the study Buena Vista Tattoo Club and they gave him the name. Use red and black ink, photography, horror and is quite dark